Looking to squeeze a little trip in this season? We don't blame you! With the colours on the cusp of changing and the weather cooling down, the most vibrant, gorgeous time of year is almost upon us. If you need some help figuring out the perfect fall getaway near Vancouver, allow us to toss in a couple of great options.
From oceanside retreats to stunning forested getaways, here are 10 beautiful weekend getaways to check out near Vancouver.
View this post on Instagram
Located north of Hope, this tram is one of the steepest of its kind in North America. Plus, it offers incredible views of the Fraser Canyon, which is one of BC's most rugged and stunning regions. Take off early and make it a day trip, or find a cabin nearby and explore the area all weekend long! Pro tip: If you enjoy haunted rides, you'll definitely want to look into the tram's wild history.
Where: Boston Bar, BC
Cost: $30.99, purchase tickets online beforehand
Photo via Airbnb
While most unique stays on Airbnb cost a small fortune to stay at, we found the perfect rustic cabin to satisfy those seeking a getaway from the city – and it's currently only $80 a night to stay at this cozy slice of heaven.
Where: Galiano Island, BC
Cost: $80 a night (2-night minimum stay)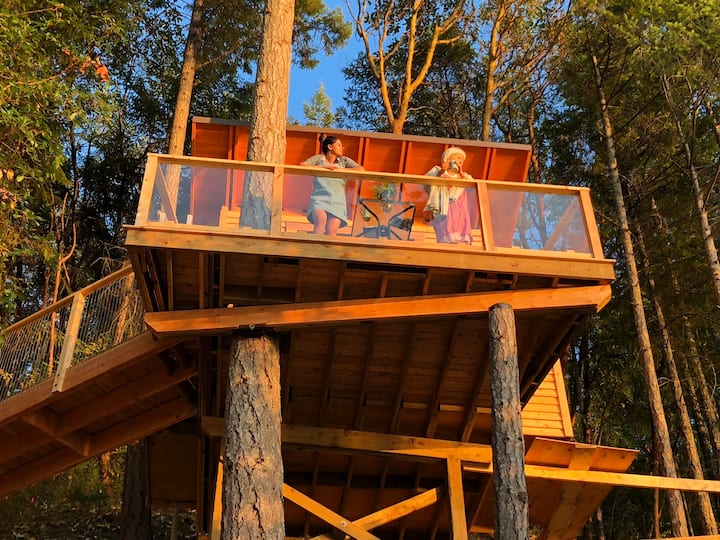 Photo via Airbnb
For those looking for a more traditional getaway, there's this incredible treehouse Airbnb on Salt Spring Island, complete with ocean views, a private deck, and a fire pit. Wake up to incredible views, before you explore a region that has long been one of the province's best-hidden gems. Relaxation is the emphasis here.
Where: Salt Spring Island
Cost: $268/night (2-person occupancy)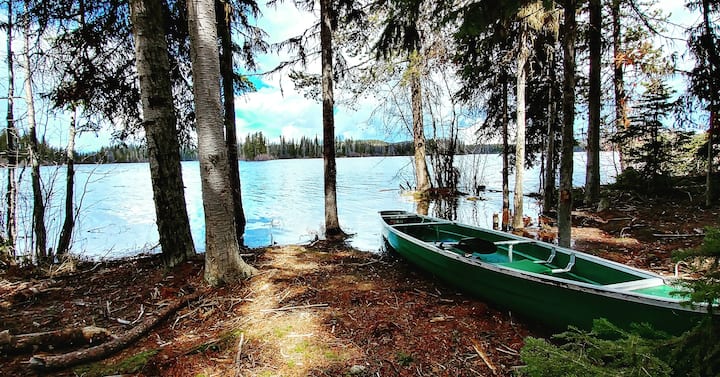 Photo via Airbnb
This pet-friendly "honeymoon cottage" on Oyama Lake is the perfect getaway if you're travelling to Kelowna or Vernon and want to extend the visit – or if you're looking for a quieter, less touristy alternative to either! The town of Oyama has a fishing resort with 18 cabins, an on-site store (open from 8 am to 6 pm), and access to a variety of motorized and non-motorized boats. Oh, and 27 islands to explore!
Where: In between Vernon and Kelowna, BC
Cost: $180/night
Photo via Tatiana Belova / Shutterstock
Ok, you've got two options with this one. You could stick around the city, (namely False Creek, Jericho Beach, Stanley Park, etc), or you could venture off a little further to Cypress, Lighthouse Park, or our personal fave – Burnaby Mountain Park.
Where: See our picks above
Cost: Free!
Recent Posts:
A huge arts & culture festival is coming to Vancouver's Eastside next month 
Check out this massive haunted house with evil clowns in Surrey this fall 
View this post on Instagram
Fort Langley is fun to visit any time of the year, but the historic town really comes alive during the autumn months. Spend the afternoon at the Aldor Acres pumpkin patch and head to the quaint downtown area for brunch and window shopping.
And if you want to step into the past for a bit, we recommend checking out the Fort Langley National Historic Site. Explore the former home of the Hudson's Bay Company and learn about how the fur traders, California gold prospects, and First Nations lived throughout the era.
View this post on Instagram
A recent addition to Tofino's hotel scene is Hotel Zed. Having opened back in August 2020, Hotel Zed offers a mid-century modern aesthetic with all the amenities and activities you'll ever need. Stroll along the beach all day, then order some takeout from in town and enjoy it on your balcony. Or, if you're going for more of an AirStream vibe – check out their vintage 'Zedstreams' in Victoria!
Where: 1258 Pacific Rim Highway
View this post on Instagram
With the Whistler backdrop, the hot-cold relaxation system, and Instagrammable elements pretty much everywhere, this place is impossible to ignore. We'd say the winter is our favourite season to enjoy this spa, but a crisp fall day spent in the Scandinave Spa surely won't disappoint.
And if you're looking for more options by way of spas and saunas – check out our roundup here.
Where: 8010 Mons Road, Whistler
Cost: Varies per package
View this post on Instagram
This beautiful island is the perfect spot to explore on foot in any season, but especially with fall foliage as a backdrop. Go on a hike through the Mount Gardner Loop trail, walk through the Ecological Reserve, or simply load up on ice cream from Earnest in Snug Cove and locally crafted cider from Riley's.
View this post on Instagram
Okay, so this one feels like another obvious pick, but how could we not include it? You can kayak, canoe, enjoy the incredible hot springs, hike, swim, and more. Honestly, if you're looking for a great bang for your buck, hitting up Harrison for a fall weekend getaway near Vancouver might be your best bet.
Where: 100 Esplanade Avenue, Harrison Hot Springs
Cost: Varies per package
View this post on Instagram
Looking to have a unique, memorable couple of days that are a little outside the norm? Well, the recently restored Bodega Cove might be just the fall getaway for you. It's insanely cool, limited to only 5 iconic cabins, and not too far from Vancouver.
Where: 18680 Porlier Pass Road, Galiano Island
View this post on Instagram
Sometimes a weekend getaway near Vancouver is more of a day trip, and that's okay! It's not easy to get a few days completely free to get out of the city and relax. With that in mind, one of the best fall activities you can do is apple and pumpkin picking. Lucky for you, there are plenty of farms near Vancouver that fit the bill.
Where: See our picks above
And that's our roundup of some amazing fall getaways in BC this year! We hope you make the most of the upcoming season & make some core memories.
Curiocity In Your Inbox!
Want more? Subscribe to our newsletter for exclusive deals, stories, info & more!
Subscribe Now