The seasons are a-changing, folks! And to help welcome the chillier weather, we thought it might be nice to show off some amazing Airbnbs around BC that are perfect for a fall getaway. After all, you might as well greet a cool morning sitting seaside or in a forest, or soak in the hot tub after a day of exploring. Well, that and many other options. Let's check them out!
Here are 11 stunning Airbnbs around BC you can visit this fall.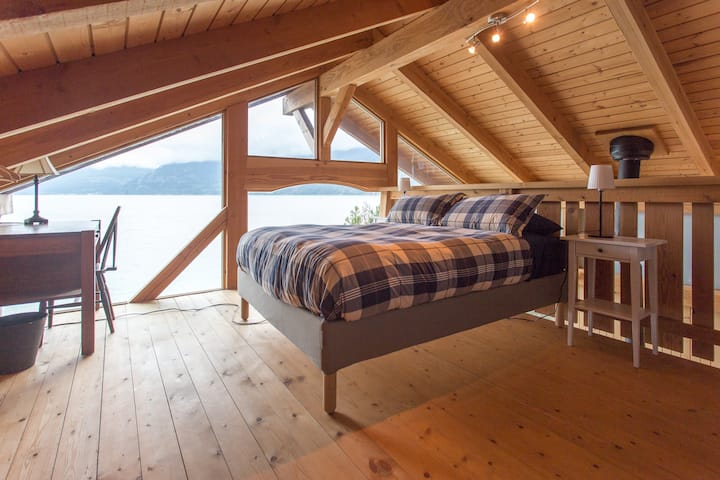 Photo via Airbnb
We're kicking things off with a few picks in Squamish and Whistler. This rustic, oceanside cabin pairs incredible views with some very nice amenities. Enjoy a day on the water using the complimentary paddleboards, then kick back in the sauna to take in the sunset each night.
Where: Squamish
Photo via Airbnb
Feel like fall is best enjoyed with friends? This might be the pick for you. Located just outside of Whistler, the Sitka Alpine Lodge features a generous 6 bedrooms and 4 bathrooms, accommodating up to 14 guests at a time. The only question is- how many can fit in the hot tub at once?
Where: Whistler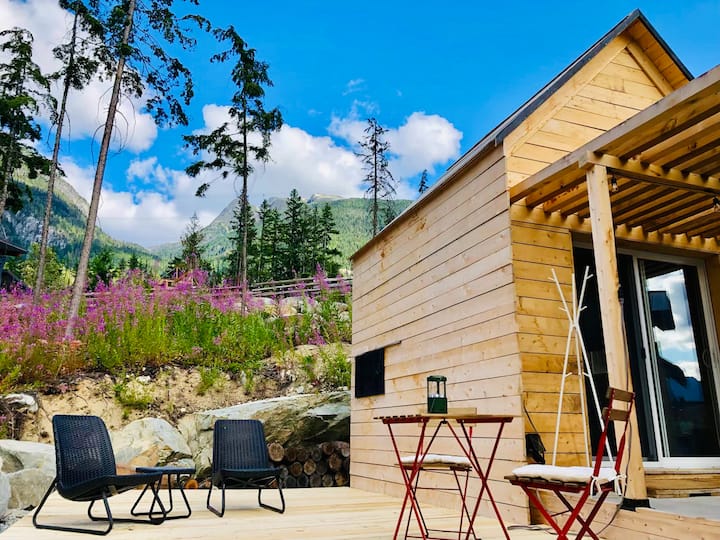 Photo via Airbnb
For something a little more down-to-earth in Whistler, we're recommending this beautiful, if a little barebones, cabin. Sitting on a one-acre private property, this Airbnb is best enjoyed alone or with that special someone and is the perfect place to retreat to after an active day around the region.
Where: Whistler
Photo via Airbnb
Located on Bowen Island, the Ark Retreat House is an architectural dream, offering 4 bedrooms and 2.5 bathrooms. Generally used for yoga and other wellness retreats, this is one of the few spots where staying inside can be just as rewarding as exploring what's around you.
Where: Bowen Island
Related Posts:
A new ranking of the 10 best 'City Hotels' across Canada was just released
This crazy West Van home for sale was just completed this year & is as luxurious as can be
Photo via Airbnb
You didn't think we'd miss the Sunshine Coast, did you? This adorable cabin is tucked away in the trees, but only a two-minute walk from the beach and the Sechelt Inlet. With 2 bedrooms and a hot tub outside, this could be the perfect option for a couples getaway this fall.
Where: Sechelt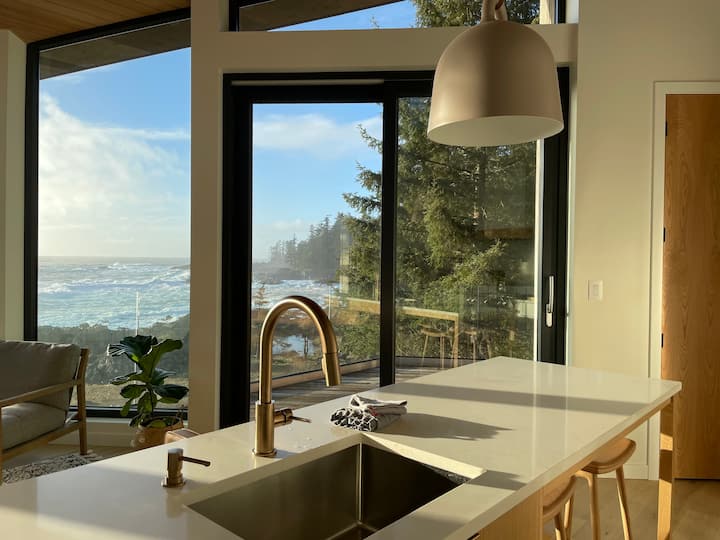 Photo via Airbnb
Ok, off to Vancouver Island. Billed as a luxury waterfront accommodation, The Trees is a 2-bedroom oceanside home with top-of-the-line amenities. Enjoy the sunset from a private hot tub on the deck, or head down to the beach for a fire if it's not raining! Vancouver Island's old-growth is second to none, so this is an easy inclusion.
Where: Ucluelet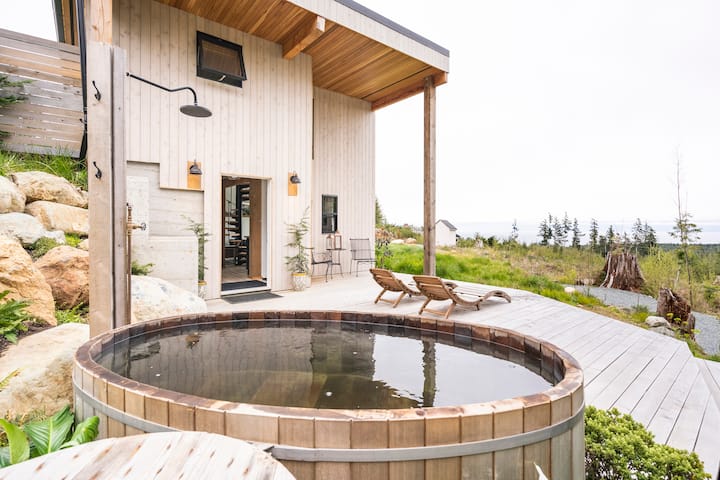 Photo via Airbnb
This is definitely one of the coolest Airbnbs in BC to visit this fall. Located in the sleepy area of the Jordan River, this purpose-built cabin offers modern amenities and expansive forest views. Spend the day exploring the area, then return for a nice evening by the fire or in the cedar (very nice touch) hot tub.
Where: Jordan River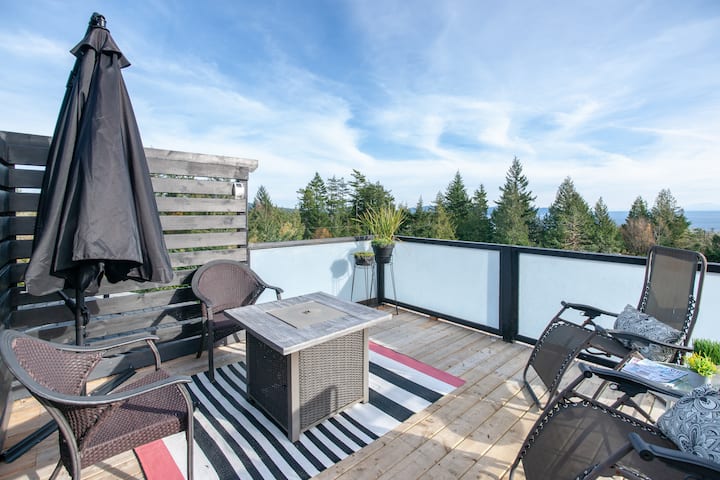 Photo via Airbnb
If you wanted to get a little closer to Victoria this fall, then this is the spot for you. While Sooke is on the outskirts of Greater Victoria, it's very much so a community unto itself. So, whether you're heading into town for the day or exploring the Sooke Potholes, this Airbnb serves as a great home base.
Where: Sooke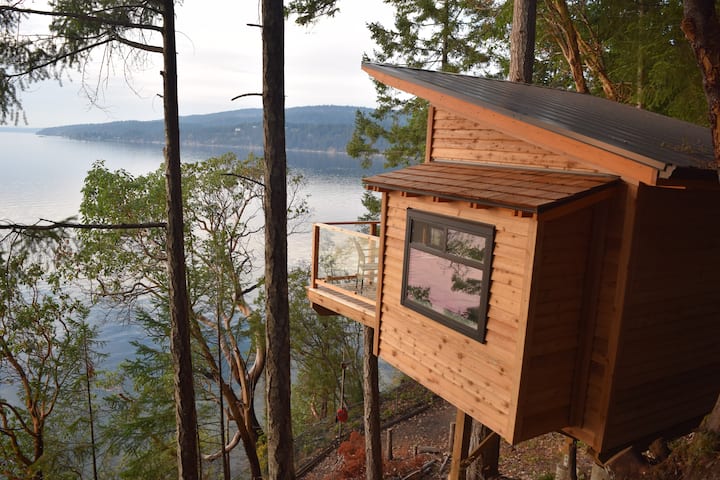 Photo via Airbnb
For those looking for a classic glamping spot, there's this incredible treehouse on Salt Spring Island complete with ocean views, a private deck, and a fire pit. Wake up to incredible views, before you explore a region that has long been one of the province's best-hidden gems. Relaxation is the emphasis here!
Where: Salt Spring Island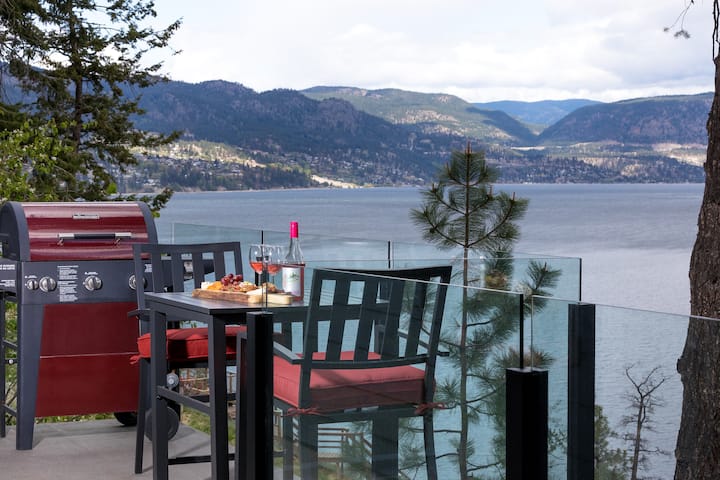 Photo via Airbnb
While it's great during the summer, the Okanagan really does have hills that sing in the fall. Go have a listen in this cozy coach house, which offers stunning views of Okanagan Lake and two private decks to take it in on. Book fast though, so you can still make the most of winery visits.
Where: Peachland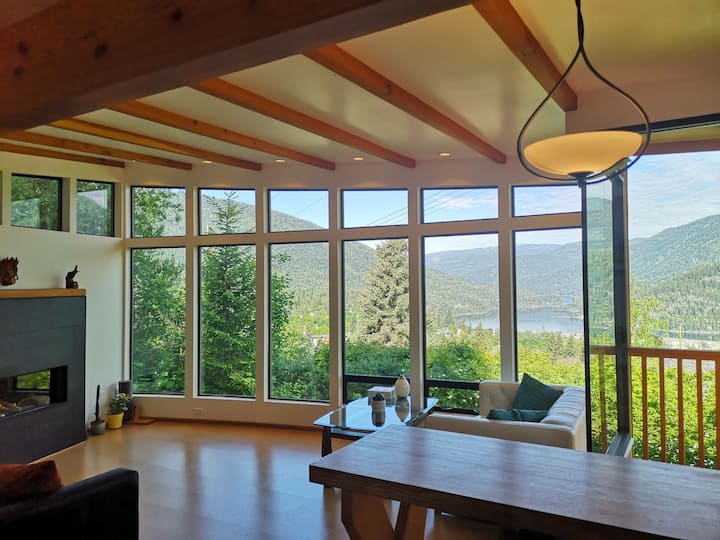 Photo via Airbnb
And finally, a pick for those who really want to explore the interior. Nelson is by no means easy to get to, but it's well worth the drive once you're there. See why your friends talk about it endlessly after a visit, and do it from a spot that has stunning views. The name isn't just for show- you really will feel like a bird perched atop a nest here.
Where: Nelson
Alright, folks! That's our roundup of some amazing Airbnbs around BC that you can visit this fall. Now, the question is – which one will you pick, and how many people are you splitting it with?