While the season of giving doesn't always have to come with a price tag, a little splurge here and there on the people we love always feels good on both ends. So if you're on the hunt for some holiday gifts in Vancouver ahead of December, here are 17 ideas to get you started. Take advantage of some amazing deals, and support some local businesses in the process.
Hats off to this first pick – WIRTH has a variety of caps, toques, bucket hats, and their mini counterparts for children as well. From the classic, waterproof Docs Cap ($65) to the new Navy Fisherman Toque ($45), there's a hat for every head at WIRTH. And the brand (created in honour of Jakob Wirth) is committed to raising awareness about the importance of mental health – one "hug for your head" at a time.
Where: 1485 Walnut Street
Price: $45-$65
View this post on Instagram
Founded by Canadians Lacey Norton and Elizabeth Davey, this Vancouver-designed bodywear brand focuses on creating pieces that allow you to move freely and feel comfortable in your own skin. Gone are itchy tags and clasps, and in their place, a variety of bras, bottoms, and bodysuits that will stand the test of time. Prices range from $20 to $54, with free shipping across North America on orders over $125.
Where: Three locations in Vancouver
Price: $20 to $54
The slim-fit version of Kit and Ace's City Tech Classic Shirt, upgraded with subtle shaping seams and made from their naturally wrinkle-releasing Stretch Micro Pique fabric, and comes in 6 lovely colours. Cut back on the ironing!
Where: Kit & Ace stores or online
Price: $140
View this post on Instagram
This BC-owned & operated candle company has some amazing candles for every occasion – whether you're looking for scents to enjoy at home, while travelling, or even via perfume rollers – which make for great stocking fillers. Prices start at $18 and you can get luxury gift sets for under $100 each, which can include mugs, specialty chocolates, and tea – in addition to winter soy candles.
Note that all the candles and perfume rollers are vegan-friendly and made in Canada.
Where: 19358 96 Avenue #255, Surrey
Price: $18 to $100
This 14K gold Ammolite ring from KORITE is a part of the Infinity collection. Delicate curves create a lightness that stirs the imagination. The gleam of true diamonds represents the celebrated milestones that change and sculpt who we are. 
Where: KORITE's website
Cost: $3,245.00
View this post on Instagram
The ever-popular and delicious coco-soy candles from Mala The Brand always make for an exceptional gift. And we don't know about you – but we definitely operate via the "one for you, one for me" method of shopping. With new scents like the citrusy "Brunch Lover" and "Mistletoe" with holly, pine, and spiced berries – how could we not?
And for the ultra candle lover out there, there are limited edition advent calendars ($130) and mini candle gift sets ($85) to consider. You can shop online or in stores at these retailers throughout Vancouver and BC.
Where: Retailers here
Price: $20+
View this post on Instagram
Born out of a single bedroom on Granville and West 14th was the concept for Bloodline, a jewelry and houseware line by Malcolm and Andrea Norman. The pair are committed to using solid precious metals and ethically produced gemstones to create exclusive pieces right in their own studios in Vancouver. Their designs derive inspo from the family's English heritage, with a twist. Think cross imagery, skulls, thorns, roses, and pearls.
So if you're on the market for some truly unique jewelry pieces (for women and men!), you'll definitely want to check out their variety of ornate rings, bracelets, chains, cufflinks, necklaces, earrings, and more.
Where: 2735 West 20th Avenue
Price: $80+
Recent Posts:
This popular winter terrace with holiday lights is returning to Vancouver next month
These BC ski resorts were just named the best in the U.S. and Canada
Looking for stocking stuffers & gifts? Well, give the gift of affordable transportation with Evo Car Share! The popular Vancouver-based carshare service just dropped its holiday offers. And they pretty much kick other stocking stuffers out of the park. 'Cause now, you can get an Evo Car Share Membership and 75 driving minutes for just $5.
Already a Member? Good news, 'cause you can snag 25 driving minutes for only $10. Whether you want to give the gift of Evo or spoil yourself they've got you covered. With these stocking stuffers, Evo takes carsharing to a whole new level of affordable. And while the prices might be the lowest you'll find anywhere in the city, the perks are pretty sweet- so grab the gift that keeps on giving today!
Where: Online
View this post on Instagram
If you couldn't make it out to their first-ever warehouse sale, Herschel Canada is currently offering customers early access to 30% off sitewide, which means you can still take advantage of some amazing deals. From suitcases and travel bags to classic backpacks, fanny packs, and other staple accessories – Herschel has you covered. Our gift idea? Pair a bag with a matching toque, hoodie, or pair of gloves.
Where: Online or in stores
Price: $25 to $140
View this post on Instagram
Anyone who's been to the beach in the fall & winter knows that appearances can be deceiving. The sun might be shining and the waves might be crashing, but it's nearly impossible to get out and explore without the proper footgear, which brings us to our next ideal gift: Vessi's 100% waterproof sneakers. The Vancouver-based brand has all kinds of styles, colours, and features to choose from, for both kids and adults. Take your pick from their Everday Classics with extra arch support, fashionable Weekend Sneakers, and Everyday Move styles for folks on the constant move.
And don't forget to check out their first-ever storefront in Burnaby!
Where: Online and at #2175 4700 Kingsway, Burnaby
Price: $112+
We all know that one person who truly seems to do it all, and with the holidays only a month away, finding the perfect gift can be stressful. Luckily for us, Samsung has a gift that can keep up.
Enter the Samsung Galaxy Z Fold4, designed to maximize productivity and truly do it all. With a big, immersive display, the Galaxy Z Fold4 is basically two phones in one. Flex Mode allows users to enjoy a standard smartphone experience on the outside and a tablet-like experience on the inside. Plus, you can even launch up to 3 apps side by side thanks to the Multi-Window view.
And better yet, Canadians can save up to $360 on select Galaxy Z Fold4 devices this holiday season! Just check out their website or stop by your local Samsung Experience Store, and get saving today! 
* Flex Mode supported at angles between 75° and 115°. For your convenience, it may be difficult to maintain Flex Mode while moving due to shaking or other movements. It is recommended to keep the phone stationary while in Flex Mode
*Certain applications may not support Multi Active Window or App Pair
Where: Local Samsung Experience Store or Online 
Cost: From $2269.99
View this post on Instagram
This 100% natural wellness brand was started in Lonsdale Quay and is now headquartered in Mount Pleasant, and offers a variety of natural health products, essential oils, diffusers, and skincare products. While we think any of their best-selling items make for a great gift, they also have curated gift sets for multiple occasions: Housewarming, self-care, travelling, and even gifts for kids. Peruse their top holiday gifts for 2022 and their gifts for under $50 for something that resonates!
Where: Online and in stores
Price: $112+
View this post on Instagram
While choosing just one local coffee roaster feels like choosing a favourite child – Milano definitely has a special place in our hearts. With 13 different-origin coffees to choose from, you can truly taste the "Italian soul" in each blend, accompanied by some truly unique flavours. And rest assured, they've got dark, medium, fair, and decaf options for every type of coffee lover out there. Our pick? Definitely the medium-bodied blend "La Futura" with notes of vanilla, pistachio, and cardamom.
And if you prefer to turn this gift into an in-person experience, they're actually the only roaster in Vancouver that has espresso-tasting bars, where you can sample up to 8 espressos at a time.
Where: Online and at these retailers
Price: $18.50 to $75
The holiday season is all about bringing the glow – and now thanks to the Illuminate Set from Skoah, your face will be what really lights up the room.
New from Skoah, this skin repairing and brightening set comes packed with ingredients to tackle hyper-pigmentation, melasma or aging, and acne scarring. Formulated with a blend that works to repair skin barrier damage and give you an illuminated from within radiance, this ultimate brightening duo will boost skin brightening properties to reduce those pesky fine lines and wrinkles.
The pros recommend using the illuminate serum as part of your night-time skincare routine and the vitamin c as part of the morning skincare routine to keep skin feeling radiant all day. Both are oil free and great for all skin types.
And the best part? This set comes pre-packaged in its own gift box so there is literally no fuss when it comes to those fancy wrap jobs.
Where: Local Skoah store or online
Price: From $150
For the foodies in your life, why not gift them something that will truly have their mouths watering and keep their stomachs happy this season? Keep the Thanksgiving energy going with some Turkey To-Go packages from Railtown Catering, complete with sage-roasted Turkey, cranberry sauce, tasty veggies, bread stuffing, sweet potatoes and mashed potatoes, house-made dinner rolls & focaccia, and pecan pie.
The icing on top? Proceeds from every order will go towards Mission Possible, an organization providing aid to those facing barriers in the community.
Where: Orders placed online by Tuesday, December 21st
Price: $299 for half-sized turkey (feeds 5-6), $429 for full turkey (feeds 10-12)
View this post on Instagram
And speaking of foodies, you can't go wrong with some treats from Milk Bar, especially now that Vancouver's location is officially open for business. Whether you're picking out a few Compost Cookies for your friends, or want to put a customized box of treats together for your employees or clients, Milk Bar has you covered.
Where: 799 Robson Street, level one of Nordstorm Pacific Centre
Price: $26+ for gift boxes
View this post on Instagram
And now, a gift for the dog in your life. Chef Dan Olson of Railtown Catering and Railtown Café decided to take his food skills in a whole new direction, inspired by his time spent at Bel-Air and Beverly Hills Hotel cooking for celebrity dogs. The result? An array of nutritious, high-protein dog treats, all taste-tested by his own Great Dane, Jango. Salmon & kelp and turducken are just some of the flavours you can choose from.
Where: Online
Price: $15.99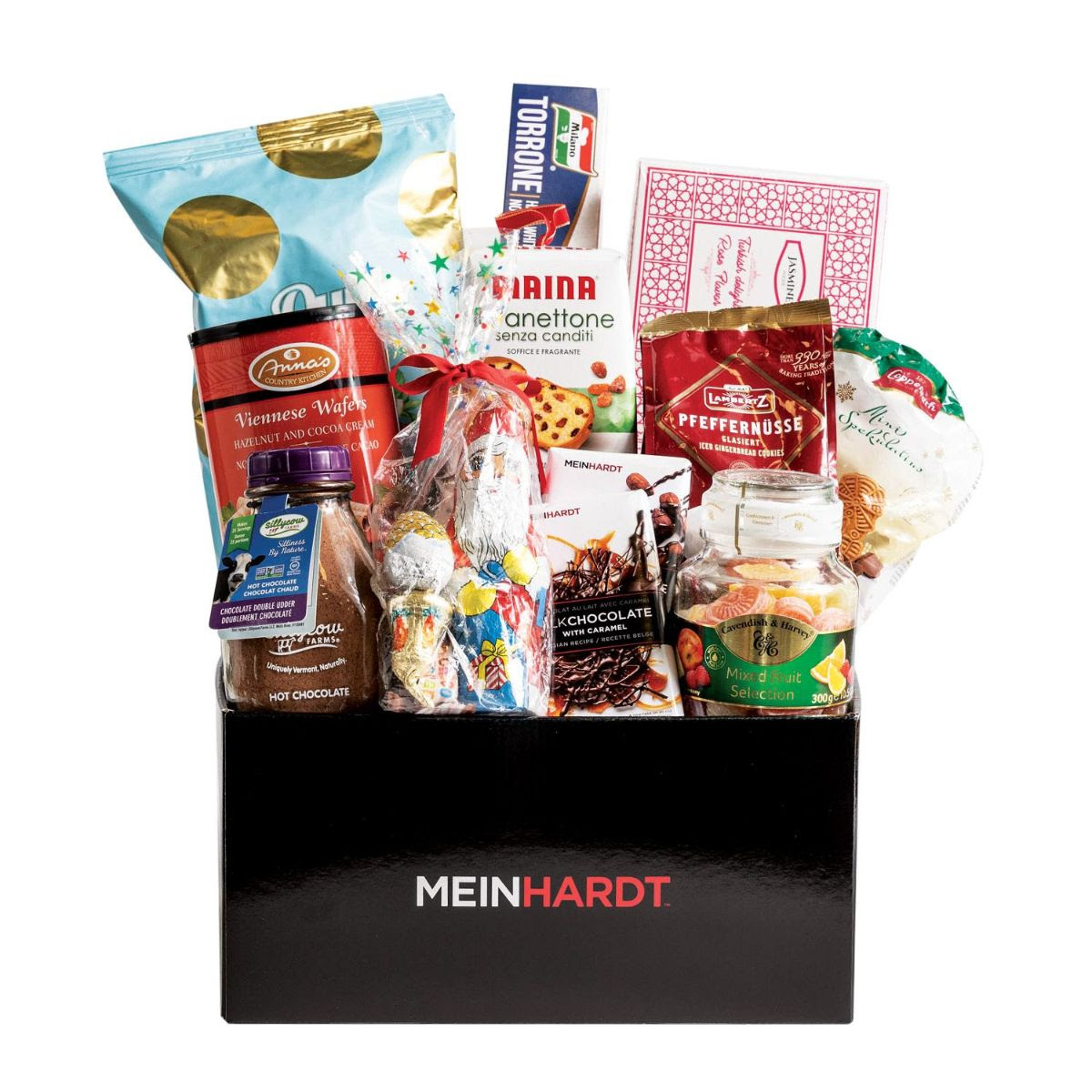 Our final pick is another food one, because really, who can resist a tempting box of goodies. Luckily for the indecisive folks out there, Meinhardt Fine Foods is offering expertly crafted boxes of sweet and savoury delights that are sure to suit any palate. The collection is available online and in stores now through Christmas.
And if you do want to personalize your gift box, there are over 15 unique platter options to choose from. Oh, and no shortage of international food vendors to mix in with your local faves!
Where: Online and in stores: 609 Granville Street and 3002 Granville Street
Price: $78 to $500
And that's a wrap on gift ideas for now, Vancouver! We hope you use this list as a jumping-off point for commencing the season of giving.