The birds are singing, the sun is shining, and it looks like this weekend is the perfect time to kickstart picnic season in Vancouver. Whether you want to hit the beach or lie on a grassy hill at one of Vancouver's many parks, there are plenty of amazing picnic spots to choose from, all with stunning views. Plus, starting June 1st, you'll be able to pack some brews to accompany your meal!
From large parks like Queen Elizabeth and Vanier to lesser-known neighbourhood spots, here are 10 amazing places to set up a picnic in Vancouver this spring.
We're starting off this list with one of Vancouver's most scenic parks. Large grassy fields, flower-adorned paths, and hundreds of unique plants & birds to check out at the Bloedel Conservatory – Queen Elizabeth Park has it all.
Follow the winding paths through the gardens to find the best spot for a picnic – be it in a grassy corner of the Rose Garden, on a quiet bench in the Quarry Gardens, or out in the open by The Duck Pond. Other activities to check out during your visit include pitch & putt, tennis and pickleball, and a dog park.
Where: 4600 Cambie Street
Photo via Beata Urmos / Shutterstock
Creekside Park is situated just outside of Science World, easily accessible by bike or foot via the False Creek seawall. Complete with a large playground, benches, and a grassy hill to lay your picnic blanket (or your head, for a little snooze), everyone's accounted for at this picnic location. Let's not forget the sweeping views of downtown, the water, and Cambie Bridge.
Where: 1455 Quebec Street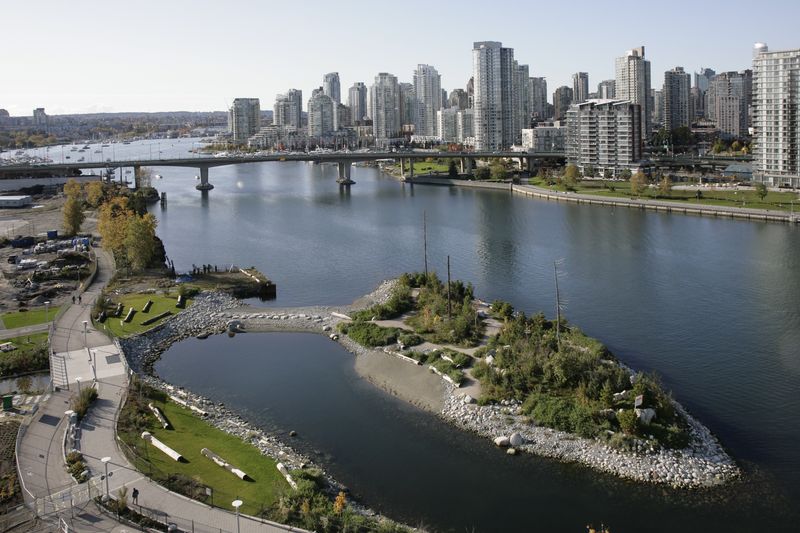 Photo via City of Vancouver
Located in Hinge Park along Southeast False Creek is the small "island" (more like a peninsula) you've probably passed countless times on your way to CRAFT or Tap & Barrel. Surrounded by water, young trees, and home to a variety of crabs, starfish, and barnacles, this urban sanctuary is the perfect place to have an afternoon picnic.
This spot can get a little busy on weekends, so we recommend going during golden hour on a weekday to enjoy the sunset.
Where: 1616 Columbia Street
Photo via Arturijo / Shutterstock
This list of picnic spots would be incomplete without David Lam Park – AKA, Yaletown's favourite outdoor meet-up and hangout spot. David Lam during the warmer months always reminds us just how many people there are in Vancouver – because they all seem to wind up in the same place! Good thing there's no shortage of it.
Where: 1300 Pacific Boulevard

Photo via Josef Hanus / Shutterstock
Situated between Jericho Beach and Kits is Hastings Mill Park – home to Vancouver's oldest surviving building, Old Hastings Mill Store Museum. The small but scenic park makes up for its size with stunning ocean views, where you can often spot sailboats, paddle boarders, and even seals – if you play your cards right. Plus, it's guaranteed to be less crowded than the neighbouring beaches!
Where: 1575 Alma Street
Related Posts:
10 stunning viewpoints to check out in and around Vancouver this Spring
Cheers: You can soon legally drink alcohol at these Vancouver beaches & here's what to know
Photo via Chris LaBasco / Shutterstock
Truth be told – there are far too many picnic spots at Stanley Park to count. However, if you're looking to enjoy the best views of Lions Gate Bridge Stanley Park has to offer, you've no doubt been to the Prospect Point Lookout. Fortunately, the area has its own designated picnic area, complete with sinks, a washroom, a ballfield to burn some calories, and even power outlets. No need to worry if your portable speaker runs out of charge!
Where: 5601 Stanley Park Drive
Photo via Lucas / Shutterstock
Fancy a lakeside picnic without leaving the city? Trout Lake is definitely your next destination for larger group picnics and gatherings, as it certainly has the space for them! The Park has an off-leash dog area, two playgrounds, and a bunch of sports facilities to check out if you want to make a day of it. Our suggestion? Load up on delicious treats at their wildly popular farmer's market, and settle down for an enjoyable meal at Trout Lake Beach.
Where: 3300 Victoria Drive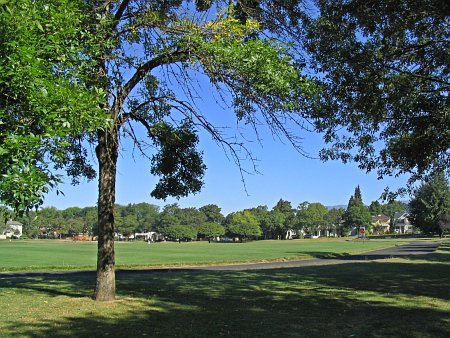 Photo via City of Vancouver
Dunbar locals can attest that Balaclava is a great local spot for more than just dog walks and morning jogs around the track. The 5 hectares of grassy fields provide plenty of space to sprawl out your picnic blanket and sunbathe.
Where: 4594 Balaclava Street
View this post on Instagram
Okay, hear us out. We're not actually talking about the museum itself. Rather, we want to draw focus to the grassy area beside the Totem Poles behind the museum. It might be a bit of a kooky choice, but we can't think of a better way to end a trip to MOA than with some reflective snacking by the water. Plus, there's always the Foreshore Trail and Tower Beach if you're up for a bit of exploring! For multiple picnic spots in one, this is a great pick.
Where: 6393 North West Marine Drive
Photo via Shawn / Shutterstock
Last but certainly not least, we have Vanier Park at Kits Beach. Ocean access minus the sand = the perfect bookend to this list of picnic spots. It doesn't hurt that the grass is covered with a sea of white and yellow daisies. Plop down on one of the many benches available, or set up an elaborate outdoor meal – any spot is up for grabs.
Where: 1000 Chestnut Street
And that's a wrap on some beautiful picnic spots, Vancouver! Cheers to warmer weather.
Curiocity In Your Inbox!
Want more? Subscribe to our newsletter for exclusive deals, stories, info & more!
Subscribe Now