This is not a drill. JetBlue Airways recently launched a new, direct route from Vancouver to New York (JFK) with daily non-stop flights, and we're ready to take a serious bite out of the big apple this summer.
While several airlines have operated non-stop flights between YVR and JFK in the past, they've all since been axed.
"JetBlue's new direct service to JFK means easier access from an important east coast market and is another significant step for Vancouver towards rebuilding our visitor economy. Nonstop air service from key North American cities makes our city an even more appealing destination for business events and for leisure travellers," said Royce Chwin, President & CEO of Destination Vancouver.
Thrilled to make our first for(eh) into Canada yesterday at @yvrairport! https://t.co/rKHvUKeLfd

— JetBlue (@JetBlue) June 10, 2022
JetBlue fare classes
As for Vancouverites looking to take a trip this summer, here's what you need to know. JetBlue has 5 different fare classes, all with varying levels of flexibility and perks. If you're down to pack light (as in, wear what you want to bring and leave what you don't) Blue Basic is the most affordable option.
If you upgrade to Blue (AKA- premium economy), you won't have to pay for any changes or cancellations made to your trip. You'll also be able to take one carry-on bag and personal item. If you're planning on bringing anything more than that (or plan on doing some shopping while in the States), you'll want to opt for a Blue Plus or Blue Extra ticket. For more info on fare classes, you can use JetBlue's fare finder.
Recent Posts:
Here are 6 clothing-optional beaches to take a dip in around BC this summer
Here's everything you need to know about Vancouver Pride this year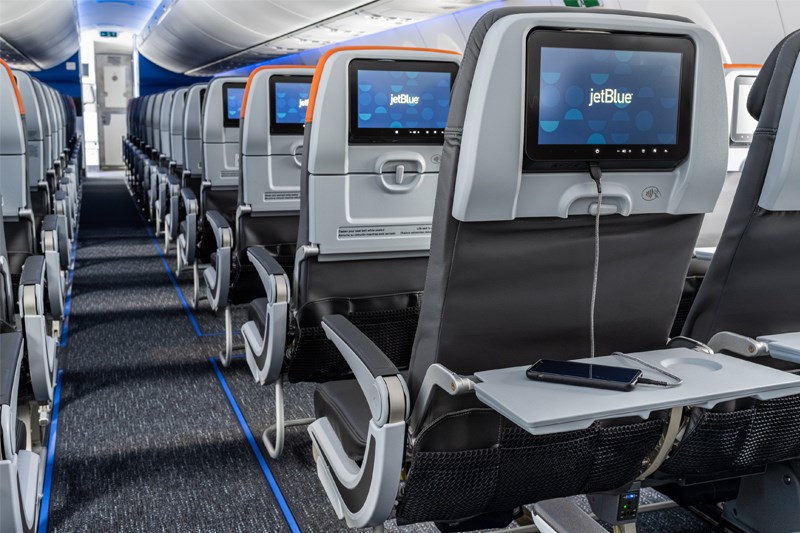 Photo via JetBlue Airways
JetBlue operates in more than 110 cities throughout the U.S., Latin America, the Caribbean, Canada, and the U.K. All planes have free Fly-Fi broadband internet, live DIRECTV programming, and unlimited name-brand snacks and soft drinks. The airline also boasts the widest legroom in coach.
Currently, the lowest one-way fares on their website are $276 CAD for Blue Basic and $310 CAD for Blue on select days in July. Stay up to date on their latest deals, promos, and new route announcements via JetBlue's socials.
We'll see you in the Big Apple, Vancouver!
Curiocity In Your Inbox!
Want more? Subscribe to our newsletter for exclusive deals, stories, info & more!
Subscribe Now