Whether you're going on a romantic getaway or planning a staycation with your besties, hot tubs are always a welcome addition to any Airbnb experience. And these rentals definitely prove it. From cozy cabins to luxurious chalets and villas – here are 8 Airbnb rentals in BC with hot tubs to check out this season.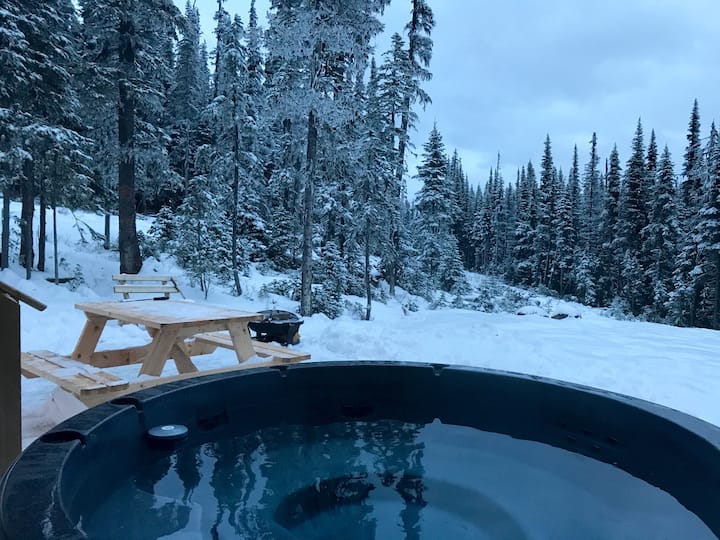 We'll start with this comfy and spacious house in Smithers, BC. Located on Hudson Bay Mountain, guests are immediately wooed by sweeping treetop views and winter landscapes. The 4-bedroom 3-bathroom rental comes with a fully equipped deck with a fire pit, pizza oven, and private hot tub – which is where we'd be all day long if we had a say. The space also features a large kitchen with a dishwasher, coffee machine, and washing machine & dryer. Think "home away from home."
At $750 per night, this pick is ideal for two or three families to split on a joint "staycation."
Cost: $750 per night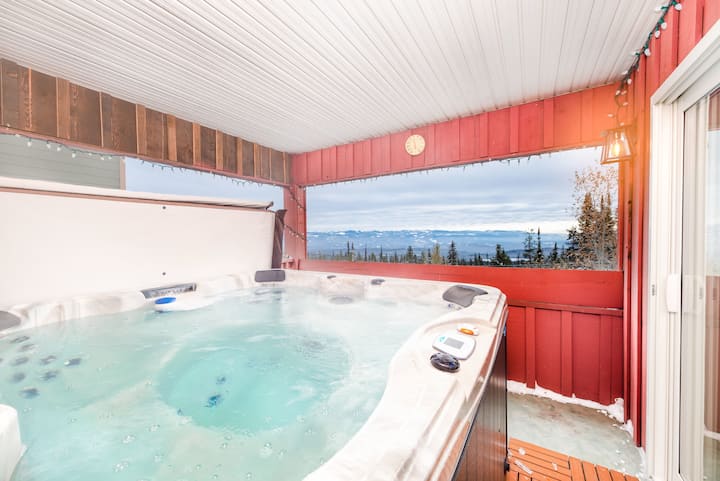 Perfect for those looking to ski in and ski out, Biggies Hideaway boasts some of the best views in Snowpines at Big White Ski Resort. The dog and family-friendly chalet comes with a cozy stone fireplace, a connected kitchen and dining room, and a loft living room. With four bedrooms (7 beds and a queen pull-out) and two full baths, this is the ideal spot for a family reunion or a group of friends planning a getaway together. The seven-person hot tub on the balcony is just the icing on the cake.
Cost: $645 per night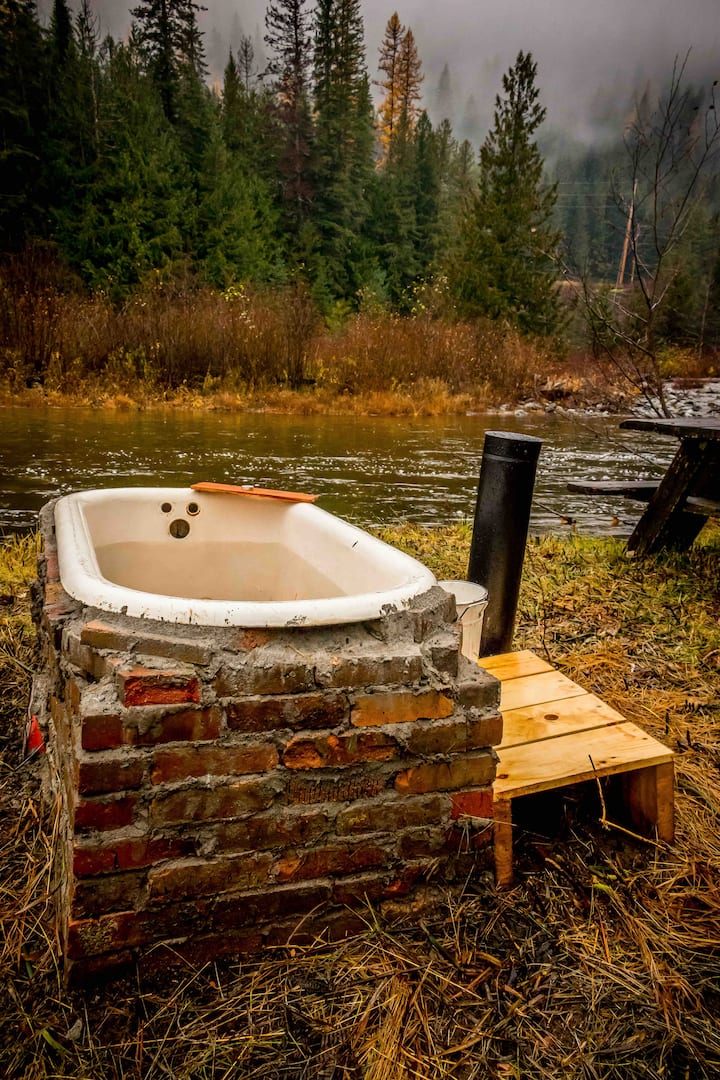 This pick not only has a six-person electric hot tub with a lounger, but a wood-fired cast iron bathtub (pictured above) – perfect for unwinding after a full day of skiing or exploring. Guests can watch movies on the 4k 100″ projector, hang out on the 500-square-foot deck, and even enjoy a swimming hole in the Salmo River – if you're good with a cold plunge, that is. Put on some '70s records and indulge in the nostalgia.
Cost: $300 per night
Recent Posts:
This popular winter terrace with holiday lights is returning to Vancouver next month
A huge Christmas festival with over one million lights is coming to Langley next month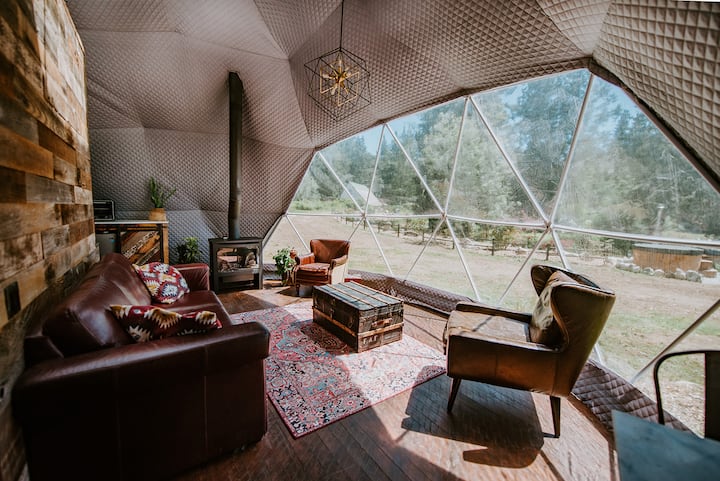 Another cool dome pick, this Sechelt rental is the modern, plant-clad alternative to the one above. Picture exposed brick, gorgeous cedar, and sweeping views of the surrounding old-growth forest. In terms of amenities, the "Barn" dome features a kitchenette, shower, bathroom, and king-sized loft bed, perfect for stargazing. The spot comes with a private deck with a BBQ, a wood-burning hot tub, and a cedar-barrel electric sauna. Oh, and a mini island with a fire pit!
Cost: $295 per night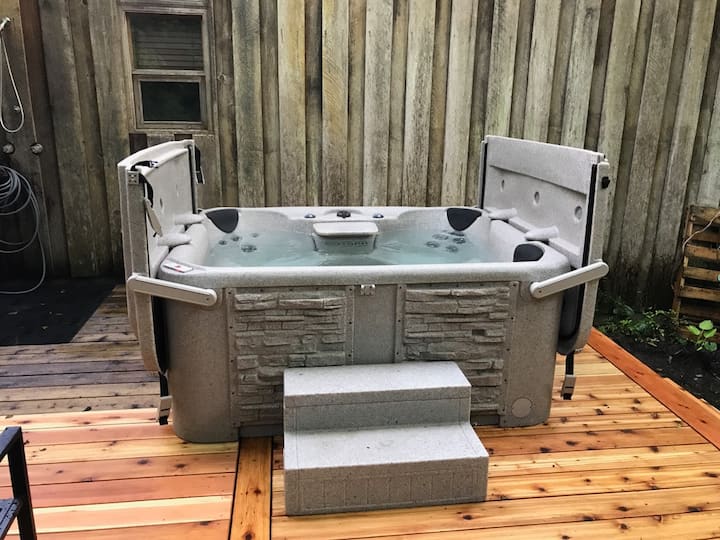 Located steps from South Chesterman beach is the Anchor, an airy, open home nestled in a beautiful garden. The Tofino home is perfect for a couple, with one cozy bedroom and an adjoining den and ensuite bathroom, separated by a barn door. And if you want to expand your group, you can also rent The Crow's Nest loft above the garage.
Guests have access to all the dining and shopping options in downtown Tofino, as well as access to a private garden and hot tub (shared with The Crow's Nest).
Cost: $275 per night
Don't let the underwhelming name fool you. This renovated condo is probably one of the most luxurious and convenient stays in the area. The closest suite to the village, this spot offers weekly specials (book a five-day stay, arrive on Sunday, and get Thursday night for free) to families and quiet couples looking for a comfortable getaway. If you're looking to do a lot of skiing in between soaks in the private hot tub, this is a great option.
Cost: $582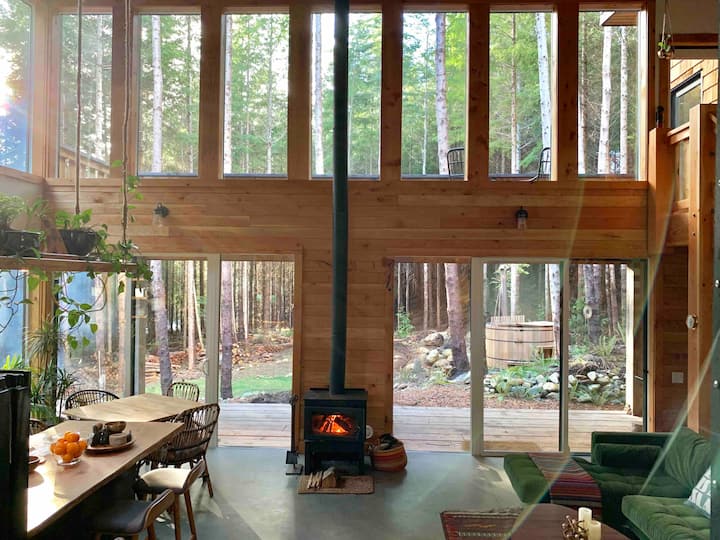 For a getaway in early January, consider staying at this stunning cabin along the Jordan River, fully immersed in the forest. If high ceilings and floor-to-ceiling windows are your thing, this is a must-visit. This lofty and airy spot features a wood stove stocked with firewood, two king-sized bedrooms, two rain showers (and an outdoor one), a huge soaker bathtub, and of course, a wood-fired cedar hot tub. And if all those ways to soak and unwind aren't enough, there's even a newly added meditation deck!
Cost: $452 per night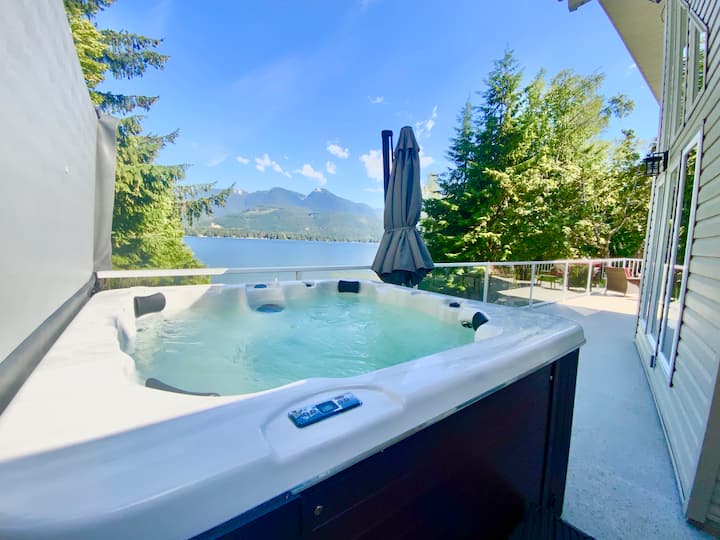 Last but not least, we come to this lakefront home in Kitimat-Stikine. With a massive wall of windows filled with natural light, this luxury home has it all. A loft area with a TV, a double bed and a minibar, a fully equipped kitchen, a stunning lakeside deck, and an outdoor gazebo for taking in the views. And when you're ready to get outside, there are kayaks and paddles waiting for you, and ski options at Shames ski hill. Oh, and a jacuzzi hot tub waiting for you in the master bedroom.
Note that this rental is child-friendly and wheelchair-accessible.
Cost: $325 per night
And that's a wrap on Airbnb rentals with hot tubs, Vancouver. We'll check back in soon!